Live Net TV is a popular streaming application that allows users to watch live TV channels from around the world. It offers a wide range of channels including sports, entertainment, news and more.
With Live Net TV, users can watch live content directly on their Android or Fire Stick devices as long as they have a stable internet connection. The app brings together live TV channels from different sources and presents them in a user-friendly interface.
It's worth noting that Live Net TV is an unofficial streaming service, which means that it needs to be loaded on the side if you want to download it, and next, we'll get started on how to install Live Net TV on FireStick!
How to Install Live NetTV on FireStick
First, you need to turn on the developer options in your Fire Stick to use third-party tools to download third-party apps.
Install Downloader App and Allow Third-party Installations
Go to the main page of your Fire Stick and select "Find" to "Search".
Search for the "Downloader" app and install it on your Fire Stick device.
Go back to the home screen and click on "Settings" to "My Fire TV".
Click on "Developer Options" that appears in the window.
Click on "Install unknown apps", select "Downloader" and open it.
This will allow you to install third-party applications.
How to Install Live NetTV on FireStick
Open the Downloader and type the Live Net TV APK download link in the input box: livenettv.bz or https://newproiptv.com/livenettv.apk
Click Start, then click "Download Amazon Fire TV".
Once the download is complete, it will install automatically, wait a few minutes for the installation to complete.
Delete the Live Net TV APK file and another prompt will appear. Click "Delete" again.
After completing these two steps, you have now successfully installed Live Net TV on your Firestick. How to use it? Let's take a look at the app.
If you can't see your downloaded Live Net TV on the Fire Stick, you can press "Home" on the remote control and it will take you to the application where you can see it at the end.
Live Net TV Review
LiveNet TV features a simplistic (though not the most attractive) interface that is well organized to make it easy to get channels. Under the channel categories, the channels are further grouped into specific countries that include Pakistani, Indian, International, US, UK, Arabic, Iran, and Turkish.
The main category also includes countries such as Indonesia, Portugal, German, Canada, Thailand, Italy, Australia, and South India.
Live events section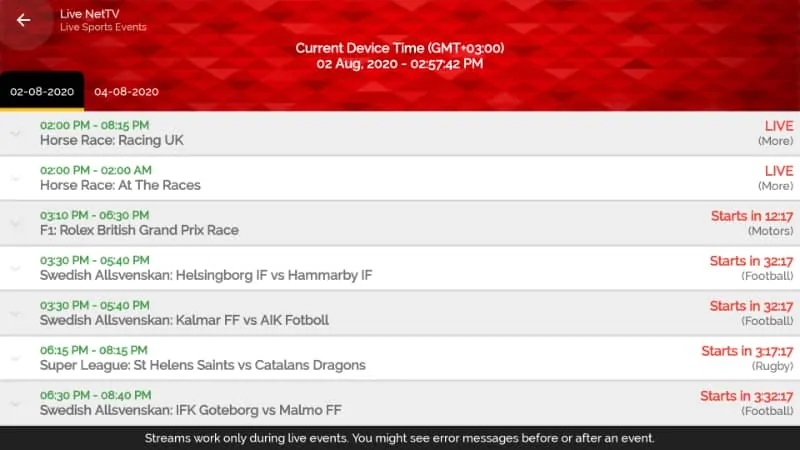 This is one of the best features of the Live NetTV app. This section provides a list of all live and scheduled events. The feature can be used to go directly to a live event instead of looking for the channel broadcasting it, unlike other apps.
For upcoming events, you can easily schedule the event and select a channel you prefer. When the event starts, Live TVNet will automatically tune in. This feature is found under the menu section.
Live NetTV Pros
800+ channels
No sign up needed
Multiple links
Wide variety of channels
Easy to use interface
The Live events section is super useful
Live NetTV Cons
A few links may be broken
Since its ad-supported, you'll have to do an advert every now and then
Category confusion
Best Live Net TV Alternatives
Live Net TV is a free third-party application that can be prone to crashing and not working, or the live streaming link inside doesn't work, and that's when it's important to have its replacement ready for you to use.
Let's see what alternatives are available to watch live TV on Fire Stick.
Airy TV
AOS TV
Pluto TV
Xumo
Plex
Ola TV
TVTap Pro
HD Streamz
RedBox TV
Oreo TV
AnthymTV
GTV IPTV Plus
The Roku Channel
One of the GTV IPTV Plus may be special, it is very suitable for Fire Stick devices, it is as easy to download it as it is to download Live Net TV, but in order to use this APK, you have to subscribe to the GTV IPTV Plus service, the two are inseparable, and you can't use it without anyone.
Related:
How to download Stremio on FireStick & Android
How to Install Cinema on Firestick?
GTV IPTV Plus offers more than 1300 channels of content and more than 3500 movies and series. It contains live sports, entertainment news, kids, movies, and more, and supports countries like the UK, Europe, and Canada. Paying $32.99 a month, this can be very expensive for most IPTV users.
But it has features to back up its expensive cost, it has FAV and 3 EPG modes, 7-day catch-up and PVR features. And there's a 3-day free trial, which is just as good as a normal subscription, except for the valuable live sports that you can't watch during the trial.
Conclusions
If you still want to download more third-party apps on Fire Stick to watch more great content, you can go ahead and check out Jailbreak Fire Stick, and Jailbreak chromecast. their legality and security when using third-party apps is something we can't assess, and you can always use a VPN during these processes. If you need to choose a reliable VPN, check out the best IPTV VPN.
The Live Net TV free app is a popular choice on the Fire Stick, he's not necessarily the best, but it does give users a lot of benefits, and if it doesn't work or needs to be updated someday, you can update it with confidence, or uninstall it and reinstall it. At the end of the day it is even possible to replace it with an alternative.